This article is part of our Handicapping the NBA series.
With the NBA postseason officially underway Saturday, it's time to take a closer look at some betting opportunities.
Using odds from the DraftKings Sportsbook, Lead NBA Editor Nick Whalen and Assistant NBA Editor Alex Barutha sent each other five bets they like for Round 1 – or beyond. It was the job of the other person to respond with why they would either take or pass on that bet. Here are the results:
Whalen: Trail Blazers (-122) to beat the Nuggets in Round 1
Barutha: I'm in on this. Portland has an overwhelming amount of talent compared to Denver. Austin Rivers is a key piece of the Nuggets game plan right now. Aside from Nikola Jokic and Michael Porter, who is getting you 15 points consistently? The Blazers counter with Damian Lillard (29 PPG), CJ McCollum (23 PPG) and Norman Powell (17 PPG), not to mention the nice center rotation of Jusuf Nurkic – who I think will break out in the postseason – and Enes Kanter.
Barutha: James Harden 23+ points + Nets win Game 1 (+135)
Whalen: Harden has been almost shockingly willing to take on more of a facilitative role in Brooklyn, but that doesn't mean he's not still capable of cruising his way to 30 points on any given night. Harden hasn't scored even 20 points in a game since late March, but all indications are that he'll be back at full capacity for Game 1. I think the Nets cruise to an easy win Saturday, but I'm not as confident as Alex that Harden gets to 23 points. I'll take the under with Kyrie Irving and Kevin Durant leading the way in a game that's decided by the end of the third quarter.
Whalen: Bucks-Heat UNDER 5.5 games (+120)
Barutha: Oof. As much as I think the Bucks will win this series, I couldn't bring myself to assume a Bucks sweep or 4-1 victory over the Heat at nearly even money. Milwaukee has a refreshed roster, and Miami has underwhelmed, but I think there's too much history here not to assume six games. If this were +200, I'd consider it.
Barutha: Damian Lillard over 28.5 points in Game 1 (-115)
Whalen: Lillard went over this number in seven of his final eight games, so it's difficult to confidently take the other side. But the Nuggets will obviously be keyed in on Lillard, and it's worth noting that he went under 28.5 points in all three of their regular-season meetings. I'll take the under in Game 1, but Lillard will have at least three 30-point games in the series.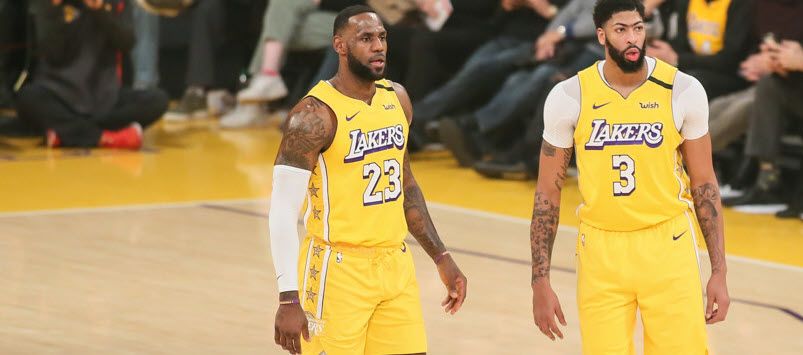 Whalen: LeBron James UNDER 24.5 points in Game 1 (-127)
Barutha: LeBron was comically passive in the play-in game against the Warriors but still ended up with 25 points, and he only went over 24.5 points once in four Game 1s last season. But I can't do it. I can't. I'm not getting plus odds on LeBron failing to score 25 points in a playoff game? That doesn't feel right.
Barutha: 76ers, Nets and Clippers to each win their first-round series (-230)
Whalen: I'll take this and not really think twice about it. The Sixers and Nets should be locks who take care of business in four or five games. Of the three, the Clippers are probably the biggest liability, but they clearly wanted the matchup against Dallas and will be well-positioned to avoid the upset. At the end of the day, the Mavs don't have a good enough supporting cast around Luka Doncic to take down Kawhi Leonard and Paul George.
Whalen: Brooklyn Nets -8.0 in Game 1 vs. Boston (-109)
Barutha: I'll take this. We're getting arguably the most potent offensive team in NBA history at home against the stumbling Celtics? Consider how little faith the sportsbook has in the Celtics when Nets -18.5 is just +390. That implies the sportsbook thinks there will be a 19-point Brooklyn win in this series. I share that thought as well, and I'll gladly lay the eight points.
Barutha: Nets to sweep the Celtics (+250)
Whalen: I love this one. Nets in five (+175) is the favored outcome, but unless Brooklyn really lets one slip away, it's hard to see where the Celtics get a win. Finally healthy at the same time, I'm expecting the Nets' Big Three to issue a stern warning to the rest of the East in Round 1.
Whalen: Lakers-Suns OVER 6.5 games (+200)
Barutha: I'm passing on this. This feels like a six-game series to me. Chris Paul won't let a sweep happen, and I'm sure Devin Booker will have "The Devin Booker Game", but I just don't think I see three wins for the Suns here. My gut says Deandre Ayton is about to get exposed, leaving the Suns with no answers for the Lakers' frontline. I'd be much more inclined to take Lakers to win 4-2 at +290, or even Lakers to win 4-1 to get some longer odds at +550.
Barutha: Anthony Davis over 25.5 points (-103)
Whalen: Davis began to look a lot more like his old self over the final two weeks of the season which is an excellent sign for the seventh-seeded Lakers. LeBron James tends to ease himself into playoff series, so I wouldn't be surprised if the Lakers make a point to run the offense through Davis early on. Whether he can score efficiently is another question entirely, but against a relatively underwhelming Suns' front line, I'm with Alex on the over 25.5 points.